Inferno GT2 Race SPEC Audi R8 – nitro auto na daljinski
Inferno GT2 Race SPEC Audi R8 – nitro auto na daljinski
Large-scale machine evolves with a power surge in performance!
Fully featured specifications can even take on high-speed circuit racing.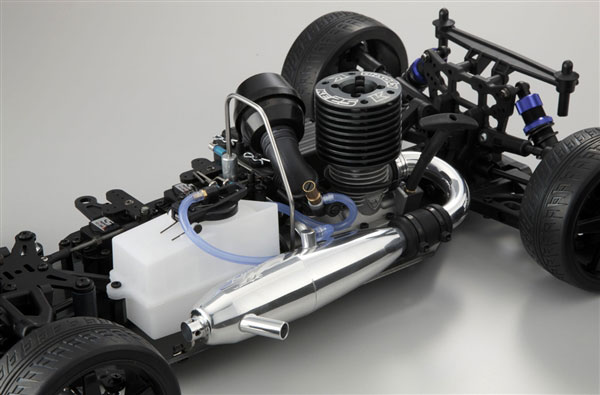 Kyosho's popular INFERNO GT2 gets a racing spec upgrade! Big 1/8 scale matches a high-power engine with detailed scale body form to deliver awesome strength and style. Chassis dimensions deliver rock-solid running stability from the driving force of the easy to handle yet high-power KE25 engine that delivers more torque and faster maximum speeds than the former GT2. The previously optional shoe-type 2-speed transmission (IGW008) is now included as standard and realizes smoother gear changes and minimizes shift shock. A harder main chassis material combines with a resin chassis stiffener that responds with both strength and smoothness as required. The advanced 2.4GHz KT-201 R/C system features a blue backlit LCD that allows clear visibility and adjustment of each control setting. Other advanced features include a failsafe function that stops the car safely in the event of radio signal trouble and reliable ABS braking. High-torque KS-200 servos incorporating tough metal gears are equipped on both steering and throttle for precision control of the big chassis. Packaged as a complete Readyset, the INFERNO GT2 Race Spec can be ready for action fast. Feel the amazing power and performance of big scale R/C with the INFERNO GT2 Race Spec.
Features:
New 2 Speed Transmission – Speed has always been synonymous with the Inferno GT2, but the automatic two-speed transmission and the new shoe type clutch in the GT2 Race Spec takes speed to a whole new level. The transmission features a 18/43T second gear combination and first gear 15/46T. That translates to an increase in top speed and less wear and tear on the engine because it doesn't have to rev so fast to achieve a class-leading top-speed. The GT2 Race Spec is easily capable of 55 mph as the car is equipped out of the box, and speeds upwards of 70 mph.
Long Wheelbase Chassis – One of the key elements of the new GT2 is the long wheelbase chassis. It's stretched for performance as well as appearance. The longer wheelbase adds stability at high speed, and still turns aggressively when needed.
150cc Fuel Tank – Longer run times are always a plus, and the GT2 includes a big 150cc fuel tank for run time of up to 10 minutes. The tank features a quick-fill spring loaded top, so you can refuel while the engine is running so you can race around until the sun goes down.
Powerful KE25 Big Block Engine – Powering the IGT2 Race Spec is a big block .25 pull start engine (KE25). This new engine features modifications to increase performance and value. In addition to the new engine it is paired up with a premium grade polished muffler and manifold set.
New 2.4GHz Radio and High Torque Servos – Kyosho's unique 2.4GHz "Syncro KT-201/KR-200" transmitter and receiver incorporates function and designed for easy operation. Simply switch the power ON and the system is ready to use straight away. The stylish form of the transmitter features a built-in antenna and an ergonomic design for comfortable switch positioning and a large, high visibility LCD display. The Syncro is also energy efficient and uses only four AA-size alkaline batteries. Its precision balance and lightweight are ideal for endurance racing and help maintain concentration without becoming fatigued and also make it easy to activate required functions and settings. From fun-running to the intensity of serious racing, the new generation Syncro 2.4GHz will deliver a greater appreciation of your R/C model's performance. Also equipped with a high torque metal gear KS-200 servo for the best performance right out of the box.
Composite Oil Shocks with Dual O-Rings Seals and Threaded Spring Pre-Load Adjusters – Stronger standard springs and heavier damping keep the GT2 rolling flat and fast through the corners. All the aluminum parts are anodized to match the rest of the parts on the chassis.
Shaft Drive System – The differentials and drive gears (except the two-speed transmission) are contained with the bulkheads, which protects the drive train from debris. It's a more advanced and durable drive system than belt drive, which requires less maintenance and produces superior performance.
Double Disc Brakes – Two vented steel disc brake rotors provide the extra stopping power needed for such a high-performance machine. The vented rotors keep the brakes running cooler and the metal-backed fiber brake pads provide smooth stopping power.
Composite Stiffener – Equipped with front and rear composite chassis stiffeners that give you just the right amount of flex for that superior handling.
Turnbuckle Linkages – The suspension and steering linkages feature turnbuckles, which allows for quick adjustments to the camber and steering toe angles. All that's needed is a 5.5mm wrench to make any adjustment on the spot – there's no need to detach or move anything to facilitate an adjustment.
Full Factory Assembly – The IGT2 Race Spec is almost completely factory assembled. Trained technicians build the car from the ground up, so it's virtually ready to go right out of the box – even the body is painted, expertly detailed and the decals are installed exactly as you see it on box. Simply add fuel and some alkaline batteries needed to power the transmitter, receiver and glow igniter and you're ready for action.
Required For Operation:
4 AA-size batteries for R/C system
Glow Igniter
R/C Fuel 20%
ReadySet Contents:
Fully assembled chassis complete with 2channel 2-servo control and linkages installed.
Pre-cut and pre-painted body complete with decals applied
PERFEX KT-201 transmitter
Note) AA-sized alkaline batteries x 8 for transmitter/receiver, and fuel are sold separately.
Chassis Technical Data:
Length: 515mm
Width: 310mm
Height: 135mm
Wheelbase: 360mm
Tread (F/R): 262mm/265mm
Tire(F/R): Φ97mm ×40mm
Gear Ratio: 1st 10.14:1, 2nd 7.90:1
Weight: 3,650g (approx.)
Engine: KE25
R/C System: KT-201